Contact Details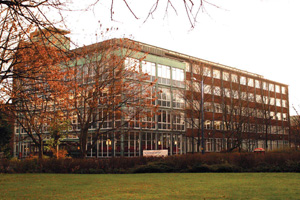 The Simon Building - home of the Centre for Atmospheric Science
General Enquiries
Contact details for individual staff members are listed on our staff page, however general enquiries may be addressed to:
Professor Tom Choularton email: t.w.choularton@manchester.ac.uk Tel:+44 (0)161 306 3950, or
Professor Geraint Vaughan email: geraint.vaughan@manchester.ac.uk Tel:+44 (0)161 306 3931.

Postal Address
Our postal address is:
Centre for Atmospheric Science, The University of Manchester, Simon Building, Oxford Road, Manchester, M13 9PL.

Web Feedback
Comments about this website and information requests can be made through our web form.

How to find us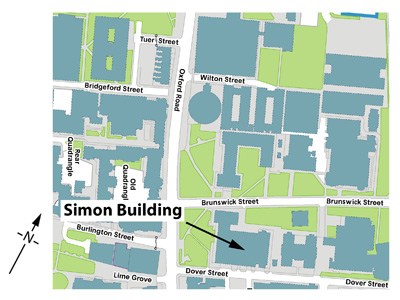 Map showing the position of the Simon Building on campus.
We are located in the Simon Engineering Building, which is located on the South Campus of the University of Manchester, on the corner of Oxford Road and Brunswick Street. Further information on travelling to the University Campus can be found on the University web pages here.
Within the Simon Building our labs and offices are located in the east wing (which is where the main entrance to the building is also located), spread across five floors from the basement up to the third floor. In most cases the initial point of contact on arrival should be Julie Samson, the centre's secretary, who is located in room 3.03 on the third floor.