Scientist creates tornado at music festival
11 Aug 2009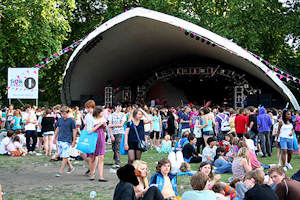 Dr Andrew Russell from the School of Earth, Atmospheric and Environmental Sciences visited the Underage Festival in a bid to encourage young people to take up science and engineering.
Alongside bands including The Pigeon Detectives and The Mystery Jets, Dr Russell demonstrated the Bernoulli principle - how raindrops are suspended in clouds - using a hairdryer and a ping pong ball.
And using a pair of two litre bottles he explained to the festival goers how tornadoes are created from storm clouds by using a water cooler bottle...
The effort was part of a programme called NOISE - or New outlooks in science and engineering.
Dr Russell came up with the idea when he first joined the NOISE team.
He said: "I decided that if I was going to get younger people interested in atmospheric science then I was going to have to talk to them. I'm a big fan of music festivals and know that people usually go there with an open mind, so I suggested the Underage festival. I knew Underage aimed at just the people we want to get across to. It's really cool that we actually ended up there!"
About 10,000 14-18 year olds attend the festival every year.
Seven scientists from around the country were at the event doing demonstrations including microwaving light bulbs, science beatboxing and fireball juggling.
Andrew is the chairman of the north-west centre of the Royal Meteorological Society, became a NOISEmaker a year ago and was recently on the BBC's ONE SHOW demonstrating his tornado machine.
His research aims to understand how thunderstorms develop using instruments like weather balloons, radars and aircraft.