Reactive halogen cycling in the marine environment
Reactive Halogen Species (RHS) in the lower atmosphere have received significant attention over recent years and are a main focus of the IGAC-sponsored Halogens in the Troposphere (HitT) programme. The cycling of RHS in the marine boundary layer (MBL) and their impacts is also a major focus within the Surface Ocean / Lower Atmosphere Studies (SOLAS) programme. RHS may perturb the atmospheric oxidation budget through autocatalytic cycles (meaning that the halogen compounds are regenerated in the reaction sequence and able to further participate in the cycle). These cycles may destroy ozone and perturb the NOx and HOx radical ratios and are thought to be multiphase; that is, part of the reaction sequence involves reactions on the surface of, or within, marine aerosol particles. RHS will be formed in the marine boundary layer by the emission of gaseous precursor species from algae and the release of reactive bromine and chlorine from the abundant halide reservoir in wind-generated sea-salt aerosol particles. MBL halogen chemistry will impact on the sulphur cycle through enhanced oxidation of gaseous sulphur in addition to reactions within mixed sea-salt/sulphate aerosol particles.
Work within CAS involves the development of a microphysical box-model of inorganic marine aerosols for studying their influence on the chemical cycles in the marine boundary layer. The model comprises a combined gas- and condensed-phase chemistry scheme coupled to a sectional aerosol distribution capable of simulating the variations in particle composition across the particle-size range. Equilibrium vapour pressures for the major condensed-phase species are calculated using a parameterisation developed from ADDEM. The numerics of the chemistry scheme are determined using the KPP (Kinetic Pre-Processor) programme. This work is undertaken as part of the UK SOLAS funded Reactive Halogens in the Marine Boundary Layer (RHaMBLe), EU FP6 funded Marine Aerosol Production (MAP) and the International Polar Year (IPY) NERC-funded COBRA projects by Doug Lowe.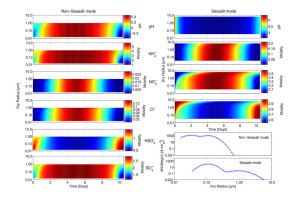 Click on the image for a larger version.
Click on the image for a larger version.
The figures above are from a simple test-case, representing a relatively clean marine airmass being mixed with the oxidation products of anthropogenic gaseous pollutants before returning to a clean marine environment. It has been run using our aerosol box-model, MANIC, and uses PD-FiTE to calculate the thermodynamic properties of the aerosol phase. The figures show the changes in aerosol composition (given as Molality, or Moles of solute per litre of water), and changes in the differences between the atmospheric partial pressures and the vapour pressures over the aerosol phase which occur through time and also across the aerosol size-distribution.