Ion Attachement Mass Spectrometry (IAMS)
Figure 1 electron impact vs IAMS for benzophenone in the KEMS.
The electron impact ion sources used in the KEMS and AMS systems, whilst having a high efficiency and being non-specific, tend to severely fragment the molecules being studied. This is a huge problem if mixtures of compounds are investigated. On the other hand, Chemical Ionisation Mass Spectrometry usually requires an informed choice of ionization gas depend on which type of species you wish to observe. Together with Dr Med Benyezzar in the Photon Science Institute we are developing an improved Lithium ion source, to provide us with a highly sensitive, non-specific, non-fragmenting ion source for our KEMS (Figure 1) and CIMS (Figure 2) systems. Lithium ions attach to the target molecules, but do not fragment them, this provides a single molecular ion for each compound of interest in a mixture.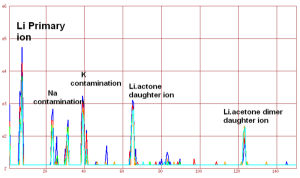 Figure 2 IAMS under different acetone flow regimes in the CIMS.