Ultraviolet (u.v) photoelectron spectroscopy u.v.-PES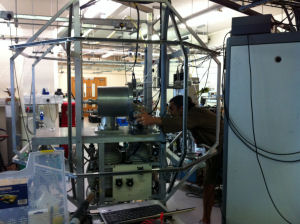 UV-PES in action.
Ultraviolet (u.v) photoelectron spectroscopy (PES) has been shown to be a powerful spectroscopic tool for the detection of radical and stable species. It can provide structural information on the species investigated, and it has the ability to detect and quantify isomeric radicals. It is also ideal for measurement of branching ratios between reaction channels which give different intermediates and/or final products. The species investigated are ionized using HeIa (21.22 eV) radiation and an electron energy analyser is used to measure the kinetic energy spectrum of the ejected photoelectrons. The photoelectron spectrum can be interpreted as electron ejection from the occupied orbitals of the atom or molecule studied. Also, the vibrational structure and envelope of a PE band can be used in conjunction with a Franck-Condon analysis to infer the structural changes on ionization (see Figure 1).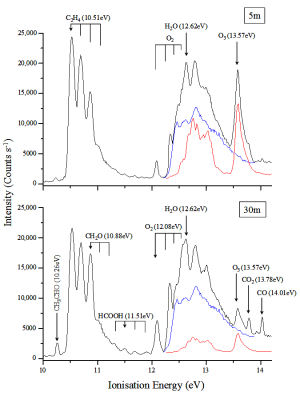 Figure 1 Photoelectron spectra recorded for the ethene-ozone reaction at 5 and 30m reaction distance.