Development of a CIMS Instrument for Field Use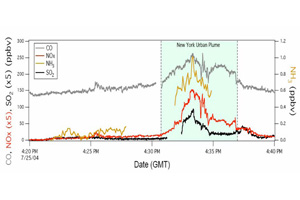 Fig 1. The time series of 1 s CO, NOx, SO2 (left axis) and 5 s NH3 (right axis) observations sampling the urban outflow from New York, taken from Nowak et al., 16
Chemical ionisation mass spectrometry (CIMS) has proven to be a powerful method for sensitive, fast time response (t~1 s) measurements of various atmospheric compounds with limits of detection (LOD) of the order of tens of pptv and lower both in the laboratory and the field. The rapid time response of CIMS is particularly well suited for atmospheric flux measurements and airborne measurements. Indeed, instrument performance has been assessed in terms of sensitivity, background signal, time response, accuracy, precision, and overall estimated uncertainty and has clearly demonstrated that the CIMS technique can be utilised for aircraft measurements, as shown in Figure 1.
We have recently been awarded a NERC grant to develop the first UK field CIMS. The new system will include a novel switching ion inlet system to enable simultaneous detection of HNO3 and NH3. Ammonia and nitric acid are important components of the atmospheric nitrogen burden on regional scales and are major contributors to the nitrogen budget across the UK and western continental Europe. Previous aircraft measurements show that NH4NO3, is significantly affecting, and in some cases dominating, the particulate burden over large areas downwind of the UK (figure 2). However, due to a lack of measurement capability, studies of the whole NH3-HNO3-NH4NO3 system have not been possible to date. The new CIMS will address that important shortcoming.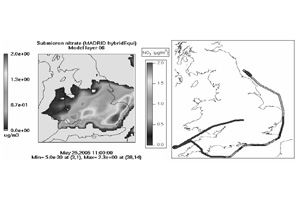 Fig 2. A comparison between modelled and measured submicron nitrate concentration.