Cloud Physics Research
Clouds are extremely important in regulating the earth's climate; they play a key role in the water cycle and are effective in removing pollution from the atmosphere through precipitation. In order to accurately assess future climate conditions, or to provide useful weather forecasts clouds must be accurately represented in regional and global models. This requires that key processes occurring within clouds, including interactions between cloud and aerosol particles and dynamics are well understood. Whilst there has been some progress on developing knowledge of such processes in warm (liquid) clouds and cirrus (composed entirely of ice), mixed phase (liquid and ice) clouds are far less well understood, yet they are important, as often they are the main precipitating clouds and they cover a substantial fraction of the Earth's surface. Further mixed phase cloud processes are key to precipitation development. More detailed background information on clouds and cloud processes can be found here.
The Sphinx Observatory at the Jungfraujoch research station Switzerland, surrounded by cloud.
The work on cloud processes within the Centre for Atmospheric Science involves detailed field investigations both ground based and airborne, to investigate the microphysical properties (properties of the individual cloud particles i.e. phase, shape, size, number concentration) of warm, mixed phase frontal, convective and high cirrus clouds. We make extensive use of the FAAM BAE 146 aircraft for these studies; as well as other higher flying aircraft. We have also recently made measurements in mountain cap clouds on the Jungfraujoch in Switzerland and Holme Moss in the UK. A suite of cloud scale numerical models including explicit microphysics models supports the field studies. We make extensive use of a cloud-resolving model with parameterised microphysics developed by the Met Office.
In addition to field and modelling studies, some detailed microphysical processes, including thunderstorm electrification and heterogeneous ice nucleation, require detailed laboratory investigations. We have world class cloud chamber facilities capable of simulating conditions found from ground level up to the stratosphere which are used for these studies. We also make extensive use of the AIDA environmental Chamber in Germany.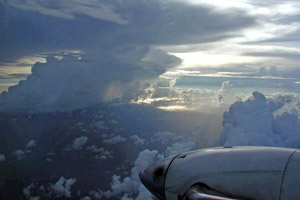 Flying beneath the anvil of a large thunderstorm during the EMERALD-II campaign.
To facilitate our field and laboratory studies we have an extensive range of state of the art instrumentation for making cloud microphysical measurements. These include, forward scattering spectrometer probes for droplet size distribution measurements, A range of 2-D imaging probes for ice crystal measurements and a cloud particle imager for measuring ice crystal habits and ice water contents in detail. We have instruments for measuring cloud liquid water content directly, optical extinction in cloud as well as cloud condensation and ice nucleus spectrometers. For many of our experiments our aerosol measuring equipment supplements these measurements as we investigate aerosol cloud interactions.