Single Site Experiments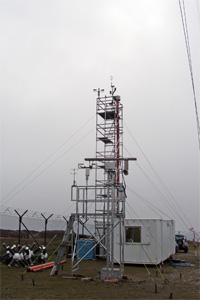 A single site cloud experiment at Holme Moss in 2006 involving scientists from the centre and from NOAA.
Many of the objectives of a multiple site orographic cloud project can be met using a single hilltop site. Additionally these projects are more suited to studies of larger scale layer and frontal clouds when these form at a level where they are intercepted by the measurement site. In these circumstances upwind and downwind sites may be less representative of the aerosol present in cloud. During these projects in addition to cloud measurements, a variety of aerosol inlets are used to sample interstitial aerosol (those not scavenged into cloud drops), total aerosol (droplet residuals and interstitial) and droplet residuals only. These different inlet types use inertial separation to select the type of particles accepted. Interstitial inlets use an impactor to impact out larger particles onto a surface, so allow only smaller particles to pass. Residuals are sampled using a counterflow virtual impactor (CVI). Here droplets are accelerated through a wind tunnel; within the wind tunnel is a central nozzle out of which there is a counterflow. Only droplets with a large enough momentum to pass though the counterflow enter the sampling system. These droplets are then evaporated leaving residual aerosol. Total inlets simply sample all particles and use a heated tube to evaporated droplets so that residual and interstitial particle can be sampled. These techniques of separating cloud and aerosol particles allow analysis of the type of particle on which cloud droplets form, and a complete characterisation of aerosol at the site.
Manchester aerosol instrumentation deployed during the Holme Moss project in 2006.
The effects of aerosol properties on cloud can be studied with these experiments, but not the full effects of cloud on aerosol. Ideally for these experiments a full suite of aerosol instrumentation would be deployed on each inlet type so continuous measurements can be made. In practise however, a switching system is often used so that the same set of instruments may sample alternately from each inlet type, with switching sometimes initiated based on the presence of cloud at the site.