Lab Studies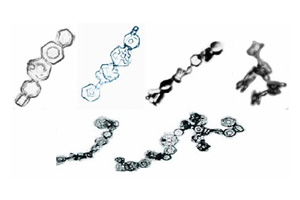 Ice crystals grown in the laboratory under conditions of high electric field strength. Similar crystals have been observed in the atmosphere in anvil cirrus from deep convective storms.
While a great many cloud properties and processes are readily studied in the atmosphere, in the majority of cases it is not possible to control or vary the conditions under which these clouds form, or to test the response of a cloud to a given parameter varied in isolation. Additionally a study of detailed processes may be difficult with course resolution aircraft measurements, or when restricted to a few locations as with ground based measurements. By humidifying, or cooling (or a combination of both) air under controlled conditions, a cloud can be formed. Alternatively cloud may be formed by adding nuclei to supersaturated conditions, or performing an adiabatic expansion in a similar way to what actually happens in the atmosphere. Under laboratory conditions critical cloud parameters such as supersaturation, temperature, number and chemical composition of cloud nuclei may be carefully controlled. Experiments may also be repeated many times with small changes in single, or a combination of many parameters. Thus allowing cloud responses to specific changes to be evaluated.
Scientists from the Centre for Atmospheric Science conduct laboratory cloud studies using the cloud chamber facilities within the Latham Laboratories and also participate in studies carried out at other facilities, particularly at the AIDA facility in Germany. Further details of the work carried out in Manchester can be found here and information about the AIDA experiments can be found here.