Surface Exchange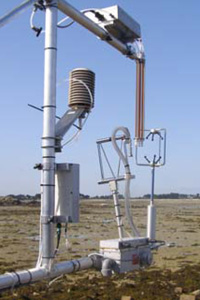 Relaxed eddy accumulation system.
Bio-Meteorology is the study of how the biosphere, including both natural and man made ecosystems, interacts with the atmosphere through the exchange of energy, gases and particles on short and long timescales. Increasingly it has been realised that the biosphere is a critical component in the Earth's climate system through processes of deposition and emission of climatically important gases and particles. Thus biosphere processes must be included in climate change models for them to accurately predict both past and future climate behaviour. This has motivated researchers to develop measurement and computer modelling techniques to improve our understanding of biosphere atmospheric exchange and its role in global chemical cycling. The study of Surface Atmosphere Exchange has huge applications in biogeochemistry, ecology, environmental pollution, agricultural and the atmospheric physical and chemical sciences.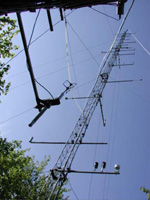 Tower measurements of turbulence, sensible heat, trace gas and aerosol fluxes above a forest in Denmark.
Key to the understanding many of these processes is the measurement of the exchange of aerosols and gases to and from surfaces ranging from grasslands, forests, sea and man made urban environments. Making such measurements in a variety of environments is one of the main aspects of our work in the area of surface exchange. A range of techniques must be applied to determine representative rates of exchange (fluxes) of gases and aerosols to what are often spatially heterogeneous sources and sinks that may also actively alter through bio-physical responses on diurnal and seasonal cycles.
The main techniques used by the Center for Atmospheric Science are eddy covariance, relaxed eddy accumulation and chamber measurements. We have a wide range of fast response turbulence sensors and fast response sensors for aerosol and trace gases suitable for making flux measurements using the eddy covariance technique. We have also developed relaxed eddy accumulation systems for the measurement of other species. These systems have been deployed at a number of recent projects making flux measurements over grassland, forests, cities and coastal zones. Computer simulations are used in conjunction with these measurement studies to assist in the interpretation of the results obtained. Further details of the instruments and techniques used in our surface exchange studies can be found on our methods pages.
In recent years surface exchange studies have formed a major component of a number of research projects including NitroEurope, RHaMBLe (Roscoff, France), CityFlux (Manchester), Repartee (London), Cobra (Canada) and ACES (Borneo). Some results highlights from a few of these projects are included on our results page.