RHaMBLe Project-Instrumentation and Measurements During the RHaMBLe Cruise D319
McFiggans & Coe Group (University of Manchester, operated by James Allan, Elena Fuentes-Lopez, Nick Good, Martin Irwin)
Atmospheric aerosol sampling from the container on the foredeck
Aerosol instruments deployed in the Manchester sea container for the RHaMBLe cruise.
1. Hygroscopicity tandem differential mobility analyser (HTDMA). Used to measure the size changes that occur within submicron particles when exposed to high (90%) humidity. Particles are dried, electrostatically selected according to size, humidified, then sized a second time before being counted using a condensation particle counter.
2. Thermo Electron multi angle absorption photometer (MAAP). Collects ambient aerosols onto a filter tape and measures the optical absorbance, which can in turn be used to estimate the concentration of black (elemental) carbon.
3. Differential mobility particle sizers (DMPS). These use electrostatic selection to separate particles according to size before counting with condensation particle counters, allowing the number and size of particles between 3 and 800 nm to be measured. In one instrument, the particles are dried, giving the particle sizes without any water content, whereas the other is operated at ambient (~85%) humidity, showing the size distribution representative of the outside atmosphere.
4. Droplet Measurement Technologies cloud condensation nuclei (CCN) counter. This instrument sets up temperature gradients within a wetted column to create supersaturated conditions typically seen during cloud formation (~0.07-0.15%SS), before counting the activated particles optically. This allows the number concentration of potential cloud particle seeds for a given supersaturation to be counted. On alternate hours, the instrument samples particles of specific sizes from the dry differential mobility particle spectrometer, allowing the cloud condensation nuclei concentration to be delivered as a function of dry particle size.
5. Aerodyne time-of-flight aerosol mass spectrometer (AMS). This instrument uses an aerodynamic lens to focus particles into a beam before the majority of the gas from the sample is skimmed off. The particles between around 40 and 700 nm are impacted on a heated surface, where they flash vaporised. The resulting vapours are ionised using 70 eV electrons and the ions analysed using a Tofwerk high resolution orthogonal extraction mass spectrometer. This allows the non-refractory components of the ambient particles (nitrate, sulphate, organic matter and ammonium) to be quantified. Aerodynamic sizing allows this data to be collected in a size-resolved manner and the additional information on the organic fraction can be obtained through inspection of the mass spectra.
Seawater analysis
Seawater bubble tank and associated aerosol instruments during the RHaMBLe cruise.
1. Bubble tank. Seawater (from either the clean water "fish" or the ship's non-toxic inlet) is flowed continuously using a peristaltic pump and onto the water surface in the tank, creating bubbles and generating particles, which are delivered to the other instrumentation.
2. GRIMM optical particle counter. Uses a laser to count and size particles of 600nm and greater.
3. TSI Scanning mobility particle sizer (SMPS). In a similar manner to the differential mobility particle spectrometers, uses electric fields and a condensation particle counter to count and size particles between 10 and 600 nm.
Mast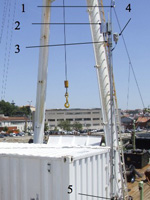 Aerosol sampling mast installed externally on the Manchester container on board RRS Discovery.
1. Main aerosol inlet. Serves the instrumentation inside the container.
2. GRIMM optical particle counter. Used to measure the number and size of ambient particles above 600nm, mounted outside to minimise stack interferences that can affect larger particles.
3. Inlet for compact cascade impactor (CCI). The impactor cassette is mounted at the bottom of the stack and is used to collect aerosol samples for offline analysis, separated aerodynamically according to size. An automated switching mechanism inside the container can be used to shut off the collector if pollution is detected.
4. Vaisala temperature and humidity probe.
5. In-line cyclone. Used to remove particles of a size greater than 2.5 µm before delivery to the sampling manifold inside the container.
Monkey Island
Instruments installed on the monkey island on RRS Discovery.
1. Andersen high-volume cascade impactors. Collect aerosol samples over periods of days onto quartz or cellulose (paper) substrates, separating particles aerodynamically according to size. Analysis of samples will be performed offline in the laboratory.
2. GRIMM optical particle counter. Identical to those associated with the container. Data sent back to container via a wireless network.
Other Groups
Details of Instrumentation provided by the following groups can be found on the RHaMBLe consortium home pages here.
Carpenter Group (University of York, operated by Rachel Dunk & Charlotte Jones) - GC/MS analysis of halocarbons in air and surface seawater
Keely Group (University of York, operated by Brendan Keely) - HPLC analysis of photosynthetic pigments in surface seawater
Lee Group (University of York, operated by Sarah Moller) - NOx and O3 Analysis.
Spectral radiometry and broadband cavity enhanced absorption spectrometers for trace gas measurement: IO / NO3 instrument, Jones Group (University of Cambridge, operated by Ailsa Benton); I2 instrument, Ball Group (University of Leicester, operated by Anna Hollingsworth); Spectral radiometers, Monks Group (University of Leicester, operated by Anna Hollingsworth); Laser induced fluorescence measurement of IO by FAGE, Heard Group (University of Leeds, operated by Roisin Commane & Trevor Ingham).