Manchester Air Quality Super Site at the Firs Environmental Research Station, Fallowfield Campus
External view of Manchester Air Quality Super Site
Introduction
"Poor air quality is the largest environmental risk to Public Health in the UK" (DEFRA, 2017) and is consequently a focus of a range of regional and national policy interventions. However, since our transport systems, the way we heat our homes, our energy supply, our use of solvents and our agricultural systems are all changing, we know that profound changes in emissions and trends in air pollutants are likely in the coming years and indeed are already taking place. We need to understand our changing atmospheric composition, to ensure air quality policy has maximum benefit for the protection of human and environmental health.
One of the largest research stations in the UK dedicated to air quality research, the Manchester Air Quality Supersite (MAQS) is packed with state of the art technology that allows scientists to probe the atmosphere in greater detail than at standard network sites. Using real-time data acquired from co-located gas, aerosol with meteorological instruments, scientists can unpick the myriad of factors that contribute to poor air quality, gaining greater understanding of the pollution sources and transformational processes that take place in the urban environment.
Located on the University of Manchester's Fallowfield Campus a short distance to the south of Manchester City Centre the supersite is in an ideal location to characterise air quality in an urban background environment, exactly the type of environment where a large fraction of the population spend a significant portion of their lives.
Measurements Being Made
Measurements at the supersite are split into 3 main groups: gases, aerosols (tiny particles suspended in the air) and meteorology.
Gas measurements at the site include gases such as ozone, oxides of nitrogen and carbon monoxide which are routinely mesaured at network monitoring sites, additionally the significant greenhouse gases carbon dioxide and methane, along with ammonia are also measured and reported in real time. The site is also equipped with a gas chromatograpy instrument operated by The University of York which is measuring hydrocarbons.
Aerosol measurements include physical properties - mass (total suspended particulates, PM10, PM2.5, PM1), total number and size distribution, and detailed chemical composition including black and brown carbon, non refractory (eg organics, nitrate, sulphate and ammonium) material, and elemental analysis. Additionally the site is equipped with an automatic filter sampler for collection of samples for later analysis by a variety of techniques.
As the weather has a major impact on the dispersion and removal of pollutants and hence air quality, the site is also equipped with an advanced set of meteorological instruments measuring pressure, temperature, humidty, wind, rain, solar radiation, cloud cover and boundary layer and cloud height.
The table below lists the main long term measurements and the instruments being used.
Manchester Air Quality Supersite Instrument Table

Parameter Measured

Instrument

Range and Accuracy

Time Resolution

The Gas Lab (Live Gas Plots)

Ozone (O3)

Thermo 49i

0.5ppb - 200ppm, 1ppb
20s

Nitric Oxide (NO)

Thermo 42i-y

50ppt - 1000ppb, 0.4ppb
20s

Nitrogen Dioxide (NO2)

Teledyne API T500U (CAPS)

40ppt - 1000ppb, 0.5%
10s

NOy

Thermo 42i-y

50ppt - 1000ppb, 0.4ppb
20s

Ammonia (NH3)

LGR Economical Ammonia Analyser

0.5-10000ppb, 1.5ppb
1s

Carbon Monoxide (CO)

Thermo 48i

0.04-10,000ppm, 0.1ppm
20s

Carbon Dioxide (CO2)

LGR Multi-gas Carbon Emissions Analyser

0.1-3000ppm, 0.3ppm
1s

Methane (CH4)

LGR Multi-gas Carbon Emissions Analyser

0.3ppb - 100ppm, 2ppb
1s

Hydrocarbons

Gas Chromatograph

The Aerosol Lab (Live Aerosol Plots)

Particulate Matter (PM1, PM2.5, PM10)

Palas FIDAS200

0-10,000ug/m3, <10%
1min

Black/Brown Carbon

McGee Aethalometer AE33

0.01-100ug/m3
1min

Non-refractory composition

Aerodyne ACSM

30min

Elemental Composition

Cooper XACT 625i

1hour

Particle Size Distribution

TSI 3082 SMPS and Palas FIDAS200

15nm - 10um
5min

Particle Number

TSI 3750 CPC

0-100,000 particles/cm3
1s

The Met Lab (Live Meteorology Plots)

Wind Speed and Direction

Gill Windmaster Sonic Anemometer

0-50m/s, 0.01m/s

0-359deg, 0.1deg

20Hz

Temperature, Humidity and Pressure

-40 - +60C

0-100%RH

500-1100hPa

1min

Precipitation (rate and type)

Theis Laser Precipitation Monitor

0.005 - 250mm/hr

Identification of precip type

1min

Boundary Layer and Cloud Base Height

Lufft 8K Ceilometer

8km, 15m
15s

Solar radiation

Ocean Optics Spectral Radiometer with 2pi Actinic Flux head.

5s
Data Usage and Availability
Data from the super site is being used to support a number of active research projects at the University of Manchester and in the wider academic community, and is also being used to provide data to local government and national policy makers. Data plots are publically available on this website.
The Multi-Disciplinary Research Space
With over 13m2 of collaborative research space with dedicate inlets and expert support in ambient atmospheric measurement, we can support your field measurements for multi-disciplinary research. In addition, High Volume Filter sampling service is available using our Digitel HV sampler.
Links to Further Information and Data
Real time data display
Current data table
Plot archive

For further information or to request observatory datasets please contact Dr. Nicholas Marsden .
Rooftop view of Manchester Air Quality Super Site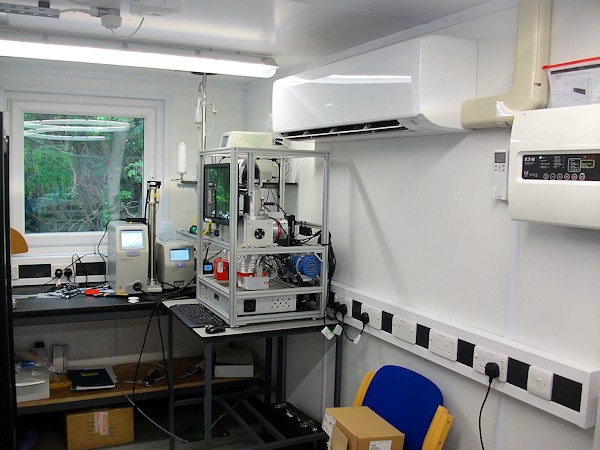 Instruments in the aerosol lab at the Manchester Air Quality Super Site