Models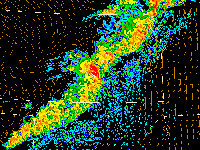 WRF output of a squall line in Oklahoma
Weather Research and Forecasting Model (WRF)
Various research groups at CAS use this state-of-the-art mesoscale model in their research. This community model was developed in the United States and has thousands of users worldwide. Students who gain experience with this model obtain a practical skill that will benefit their future career, whether in research, academia, or in the private sector.
WRF can be run either to reproduce a previous weather event or in an idealized framework using simplified analytic initial conditions. At Manchester, the WRF model has been used to look at high-wind events in extratropical cyclones, mesoscale snowbands over the English Channel and Irish Sea, the climate of the arctic region due to changing sea-ice distributions, convective storms, and the effect of the coastlines on frontal movement and structure.
The WRF model is run everyday at the University of Manchester, as part of a multi-university effort called Uniweather, to produce real-time weather forecasts for teaching and research. This project was led by Prof David Schultz at Manchester.

Weather Research and Forecasting Model with Chemistry (WRF-Chem)
A variant of the WRF model includes prognostic atmospheric chemistry schemes. Manchester has contributed to WRF-Chem development by inclusion of our own aerosol scheme. WRF-Chem has been used within research groups at Manchester to look at the interaction between weather and atmospheric chemical processes over the UK and around the world. Current projects include aerosol chemistry over the Amazon, south-central Africa, and India.

Aerosol Modelling
The aerosol modelling activities within CAS range from zero-dimensional time-invariant prediction of aerosol properties, through zero-dimensional time-evolving detailed process simulations through to 3-dimensional coupled aerosol and transport modelling across scales ranging from the street canyon to regional domains. Further information about aerosol modelling.